Results from National Championships Denmark!
National Championships Denmark took place in Lumby this weekend. 15 Juniors, 23 Seniors and 52 Masters played many games of Pokémon to qualify for 2014 World Championships in Washington D.C. in August. The winners of each age division won a paid trip to Worlds in addition.
Card Leaders were reporting live from Denmark, providing a Twitch livestream and also interviews, photos and additional information all around the event.
Heading into Finals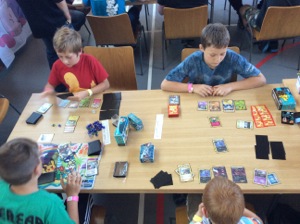 In Junior Division, Magnus P won the final match against Vincent M in a Aromatisse mirror match.
Rasmus M won Danish Nationals in Senior Division. He used an Yveltal/Garbodor deck and beat Tobias A (Plasma-Lugia) in the finals.
The Masters players had Top 8 on day 2. Four Yveltal/Garbodor variants and four different kinds of Plasma decks qualified for that stage. On the featured table, Jakob A (Yveltal/Garbodor) won a close match against the 2013 champion Stephan N (Team Plasma Kyurem / Lugia). He managed to come back from a 0-1 and win the remaining two games.
First seed Lars A won his match against Simon E. Both were playing an Yveltal/Garbodor deck, but even though Simon had Raichu in his deck he couldn't take the win. Simon's brother Jonas (Palkia/Snorlax) also lost his Top 8 match. Simon O (Team Plasma) beat him and proceeded to Top 4 as well as Soren L (Plasma/Aromatisse) who won against Steffen F (Yveltal/Garbodor).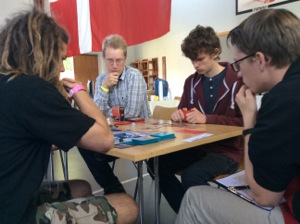 Lars vs Soren was the featured Top 4 match. This match went to the third game after Lars equalized. He drew dead for a couple turns in the beginning of the match - an energy-less Yveltal-EX and a benched Trubbish were watching Soren setup. Soren's bench was filled woth Rayquaza DRX, Deoxys-EX, Genesect-EX and Darkrai-EX while having Thundurus-EX active to hit Lars's Yveltal-EX. Lars couldn't recover from his bad start and lost the game a few turns later.
Jakob beat Simon in the meantime and followed Soren into the Finals.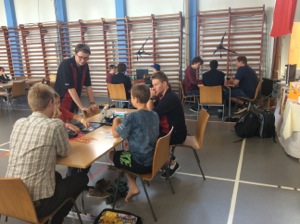 The final match was Soren L (Plasma/Aromatisse) against Jakob A (Yveltal/Garbodor). Over the course of the tournament, both players had won six games, lost one and tied another one (6/1/1). Jakob got the lead quite early by attacking with Darkrai-EX and making Soren concede the first game.
In the beginning of game 2, Jakob had to attack with Sableye's Confuse Ray because he was in a lack of attackers or Item cards. He finally drew a Random Receiver after Sableye got knocked out by Soren's Darkrai-EX. He built up an own Darkrai-EX to attack with but missed a Garbodor to evolve one of his benched Trubbish. Soren called Landorus-EX to attack Jakob's Darkrai-EX for Weakness. His bench consisted of Aromatisse, Virizion-EX, Suicune PLB and a heavily damaged Darkrai-EX. Jakob still couldn't draw Garbodor to activate Garbotoxin and prevent Soren's Aromatisse shifting the Energy cards. Landorus-EX was healed with a Max Potion after damaged by a Night Spear. It knocked out a Darkrai-EX and a benched Sableye at the same time to draw three prize cards. Jakob started attacking with Yveltal-EX after playing N to reduce the amount of cards in Soren's hand. A Scoop Up Cyclone on Soren's side healed Landorus-EX again. There was still no Garbodor on the field which could have prevented Soren from moving around his attackers and Energy cards. The damage added up on Soren's field though as he could n't find any more Max Potions. He won the second game by catchering a damaged Yveltal-EX on Jakob's bench with a Plasma Energy on Genesect-EX.
Jakob had the first turn in the all-deciding game 3. His Darkrai-EX and Trubbish were facing a Virizion-EX and a Spritzee. Garbodor entered the field soon but without a Pokémon Tool attached to it. Soren evolved Spritzee into Aromatisse and started attacking with Landorus-EX's Hammerhead. Garbodor still got no Tool in the next turn and Darkrai-EX was knocked out by another Hammerhead. Only Yveltal-EX and Garbodor were left on Jakob's side now. Right after he used Junk Hunt with a fresh Sableye, Soren played an Escape Rope to force Jakob to sacrifice another Pokémon on his bench. There were 6-3 prizes left in Soren's favor. Jakob had a strong turn now, getting a Tool for Garbodor and multiple Energy cards attached to Yveltal-EX and Darkrai-EX. He proceeded attacking with Darkrai-EX for 90 damage on the Landorus-EX and 30 damage on the already damaged Aromatisse. Soren could heal Aromatisse but not Landorus-EX because of the Ability lock. He played down Tool Scrapper to break this lock, attached a Plasma Energy to Genesect-EX and catchered Garbodor to KO it with Megalo Cannon. Genesect was then knocked out by an Yveltal-EX and Soren only had two Energy cards left on his field. He drew a third one out of a Colress and knocked out Yveltal-EX with a Muscle Banded Landorus-EX's Land Judgment for the win.
The Winners
Here are the 2014 Danish National Champions:
Junior Division Champion: Magnus P (Aromatisse)
Junior Runner-up: Vincent M (Aromatisse)
Senior Division Champion: Rasmus M (Yveltal/Garbodor)
Senior Runner-up: Tobias A (Plasma-Lugia)
Masters Division: Jakob A (Yveltal/Garbodor) *
Masters Runner-up: Soren L (Plasma/Aromatisse)
Soren gave the win to Jakob before he took his last prize cards.
Thank you for watching!
We hope that you enjoyed Card Leaders' coverage of Danish National Championships. Tell us what we can do better next time on our Facebook page Card Leaders' Pichu. Thank you for watching and until next time!