Hawaii-Blog #4 - Last Preparations
Hawaii is great! Perfect weather, a very nice hotel, exciting trips around the island. Don't know what to tell fist!
Obviously, the most exciting part of the vacation are the World Championships this weekend. A lot of players have already arrived and are now preparing for the most important tournament of the year. In this entry, we want to show you what we did on our island trips. Additionally, we will focus on the Last Chance Qualifier - the Worlds Qualification tournament!
Big Island...
... is indeed a big island. Our guide book told us to leave early in the morning if we want to go to the sights of the island. We did - and after more than three hours of driving on long, but exciting roads, everyone of us understood why leaving early was so important. Our trips were nice nonetheless. We explored the island with our rental car, a Jeep with all-wheel drive. Dennis definitely had a lot of fun driving it.
The roads on Big Island are... let's say special. Even one-lane-bridges aren't as thrilling as those incredible sharp curves right behind ascents or before descents. If you ever want to use the "Saddle Road", you should prepare for that and ask for a proper rental car...
There are only a few good radio stations on Big Island... unfortunately, most of them are only available at some points of the island. We had to stick to one or two of them. "Call Me Maybe" was definitely the most played song of our Hawaii vacation.
Akaka Falls and Volcano Park
We first went to the Akaka Falls, a waterfall in the Akaka Falls State Park near the eastern coast of Big Island. There is a circle route that takes the visitor to the two waterfalls which are located there.
One of them is Akaka Falls, which is 422 feet (129m) tall. There are many waterfalls in the world that are taller. But there is an interesting fact about Akaka Falls: it consists of one single drop.
We also visited the volcanoes on Big Island. There are two big volcanoes: the smaller one is Mauna Kea - the taller one, Mauna Loa, can be seen from any point of the island. It's definitely one of the more unusual experiences to see a real volcano.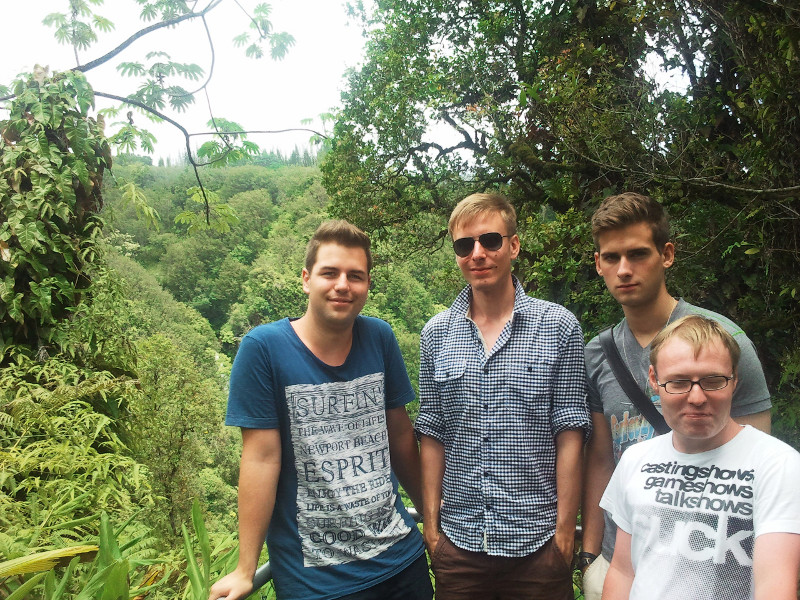 The Last Chance Qualifier
Back in the hotel and the first week is almost over... on Friday, the Pokémon fun started with the first event of the weekend - the Last Chance Qualifier! Players from all over the world, who hadn't qualified for Worlds via rankings or Nationals, tried to qualify by winning all rounds of that tournament. There were three German players competing: David, who accompanied our Senior National Champion Nils. Jan, the father of our Card Leaders own Junior National Champion Thoralf. And last but not least Marcel, who joined us without having an invite.
In Masters Division, eight additional invitations were given to the winners of the Last Chance Qualifier. The players had to win five rounds of Single Elimination in a row to get an invite. Marcel decided to play a Donphan deck, but he lost the first round. David lost early, too. Jan won the first three rounds with his Hammertime deck, but then lost against a Mexican player in round four.
German and Austrian Worlds Competitors!
The photo below shows most of the German and Austrian TCG and VGC Worlds competitors. Check back our blog for the results of 2012 World Championships!