Hawaii-Blog #2 - The Schedule
Still in Berlin, but the smell of Hawaii is already in the air... welcome to this second entry! In our first entry we introduced the six players of Card Leaders who are going to Worlds next week. Today we want to present the schedule of the journey which is going to start on Monday.
World Championships 2012
The official Pokémon World Championships 2012 website launched a few hours ago. Much information about Worlds can be found there, but only our blog will give you a special view on the tournament - the Card Leaders players will do a lot of coverage.
Worlds will take place at Hilton Waikoloa Village, which is located in Hawaii's Big Island. The Pokémon fun itself will start next Friday. Some players are already there and the Card Leaders are going to follow on Monday.
Karl, Dennis, Marcel and Ole booked their flights together a couple of months ago. Back in December, no one of them already had their invites secured, but especially Karl and Ole were doing very well. While Dennis didn't expect to collect enough Championship Points over the second half of the season, Marcel tried his best to do so. After the last Regional Championships had been played, neither Marcel nor Dennis had many additional points.
The last remaining invites were given out at National Championships. Dennis grabbed this last chance and won his invite and Travel Award by going second with his Terrakion / Mewtwo deck. Marcel didn't do well enough and will have to play the Last Chance Qualifier, which is going to take place on Friday.
When all competitors of this year's Worlds are determined, the tournament itself can begin. After a great Opening Ceremony the first round will start. But before all of this is going to happen, a lot of preparation has to be done.
Pokémon Playtesting and Preparations
Finding the deck to play at World Championships is not as easy as it sounds. To choose a deck for Worlds means to choose THE DECK which you are going to play the whole tournament. You can't switch your deck - you can't even change one single card. Everyone wants to find the best deck to play. There are a lot of decks that can be considered the best decks.
First of all, there is Darkrai. There is no doubt that Darkrai decks are the strongest decks in the format. But which variant of Darkrai is the best to play? Darkrai / Mewtwo, Darkrai / Terrakion, Darkrai with both Terrakion and Mewtwo, Hammertime... it's a tough decision.
At German Nationals, no Darkrai player managed to reach Top 4 in Masters. There were Terrakion / Mewtwo ("Karl's Trick") and Celebi / Mewtwo / Tornadus (CMT) instead. Obviously no player decided for the right Darkrai variant - or none of them played well enough. CMT and Terrakion / Mewtwo are strong decks too - there is also Zekrom / Eelektrik that made Top Cut at US Nationals. But playtesting showed that Darkrai decks are the best if played right.
Everyone of us tried to play a lot of different decks. The Tier 1.5/2 and Rogue decks have to be mentioned, too. US Nationals have been won by Klinklang, which we expect to be played at Worlds, too. Vileplume variants like Vanilluxe, Accelgor, The Truth etc. are also good choices to reach Top Cut. Entei EX seems to be a solid deck. Even a Kyurem deck is doing well at the moment. There are a lot of possibilities - it's our job to make the best choice.
The Departure
Monday, 6:50am, Berlin-Tegel airport. The Lufthansa flight will take us directly to... Frankfurt. From there we finally head towards the USA - San Francisco will be our next stop. Lots of hours later we will finally (hopefully) arrive in Kona, Hawaii. Hulagirls are waiting for us, four coconuts will fall down from the airport's palm tree... perfect weather in paradise!
Thanks to time shift we're going to arrive on Monday, too. But the flight will be long, very long. What are we going to do in the airplane and at the airports? Maybe the airplanes have special Pokémon seats where Worlds competitors can playtest the whole flight... well, this dream is unlikely to come true. But hey, Monday is Dennis' birthday! We're going to party all day! The day will be longer as usual - it will be the longest birthday of Dennis' life!
There's another Card Leader whose (ninth) birthday is he 6th of August - Thoralf. Jan and Thoralf are going to follow Karl, Dennis, Marcel and Ole two days later. On Wednesday, the Card Leaders team will be complete and ready to rumble! We try to do another blog entry before we depart to Hawaii - be sure to check the Cardleaders.de Worlds2012 site!
Finally arrived - Aloha from Hawaii and mahalo for reading the third entry of our blog! Everyone of us is happy to be here. We arrived on Monday evening - let us tell you a little bit about our trip and the first day in Hawaii, the Hilton Waikoloa Village and Kailua Kona.
Around the World
Our trip started on Monday, 6:50am. The first flight took Dennis, Karl, Marcel and Ole to Frankfurt. We had to wait two hours for our connecting flight to San Francisco. With a duration of almost 11 hours, this would be our longest flight. It was actually nicer than expected, Our birthday boy Dennis got a little present from the Lufthansa crew. The meals were good and we could while away the time by watching some movies.
Luckily, we were some of the first passengers who left the plane in San Francisco. This speeded up our entry in the USA a lot because we didn't have to wait in the queue. Everything was okay for us and we entered the USA altogether.
San Francisco's airport is a nice place to wait for a connecting flight. After our arrival, we we went to Subway, did some shopping and playtesting. Another five hours later our plane to Kona departed.
Arrival in Hawaii
Kona is a very unusual airport. Instead of hall there are cottages like on a beach. When we arrived, the weather was great. It was already dark outside. We had to pick up our rental car and after that we went to the hotel.
Hilton Waikoloa Village is a vacation paradise. On Monday evening Karl showed us the hotel's most important places. There are a lot of pools and palm trees everywhere. The ocean flows into one of the pools. There are a monorail train and a boat going from one side of the hotel to the other side.
You can find many photos that we took in Hawaii on Facebook. Just visit our Facebook page Card Leaders' Pichu. There will also be a live coverage from Last Chance Qualifier and Worlds as well as latest information about the tournament.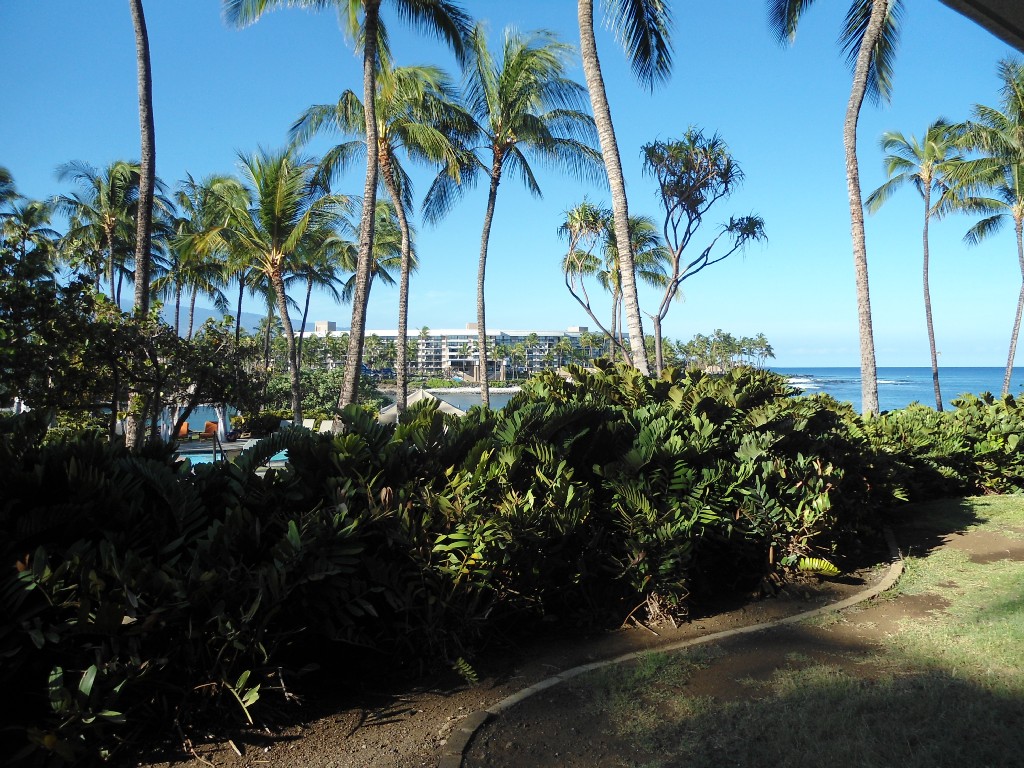 The First Day
The first day in Hawaii was very exciting. First we went to the King's Shops which can be considered the shopping mall of Waikoloa. Hawaii is quite expensive... we bought something for breakfast and went back to the hotel. After that we went to Kailua Kona where we visited the Walmart, a Hawaiian market and the Bubba Gump Shrimp restaurant. Karl bought a very delicious pineapple on the market.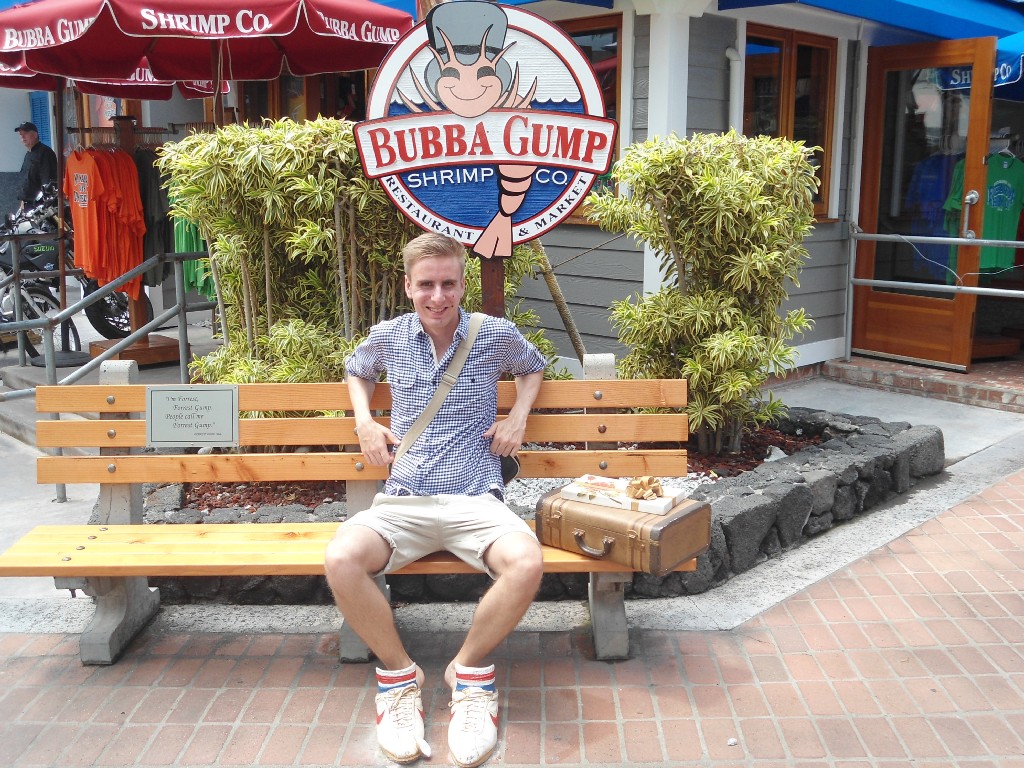 Bubba Gump Shrimps is a nice restaurant. They have of course shrimps but also other fish and burgers. We took photos of everyone of us sitting on the bench in front of the restaurant. It was not even 1pm when we returned to the hotel - we had already done so many things in that short time!
Back in the hotel we met some Pokémon players in the lobby. We went to the pools for swimming - the weather was not as great as earlier the day but it was still nice. We had the idea to go to the lobby and Gaming Area to do some Pokémon playtesting. More Pokémon players arrived that evening. After a meal at one of the hotel's bars we went to bed quite early.